Extra Holes, Extra Versatility:
The extra holes in the Super Boom allow your choice of deeper digging or full loading height. Also an extra hole is added so you can support the boom in the upright position for transport.

Deeper Digging Without Moving the CADDigger:
The 30 degree angle of the Super Boom causes the end of the boom to be 16" lower, allowing deeper digging without moving the CADDigger.

Self Fixturing:
The design of the Super Boom makes assembly almost error-proof. Simply align the parts per the included instructions and weld.

CADThumb can pick up most round and irregular shaped objects up to 24" in diameter.

The CADThumb folds out of the way for self-storage when not needed.

The Super Boom raises 15 degrees higher than the standard boom giving greater clearance during truck loading.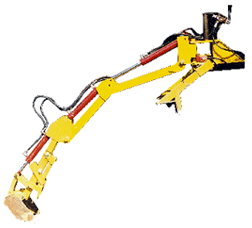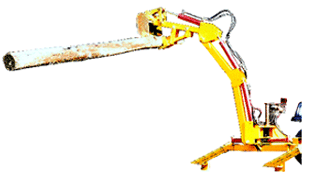 (The optional CADThumb shown here is holding a 400 pound, 17' long, 9" diameter pressure treated pole from one end.)